Tidal creeks, like Phillippi, are constantly changing, dynamic systems. As their name suggests, they are highly influenced by the rise and fall of local tides (and rain), which shape their saltwater-freshwater landscape. This convergence of different environments creates a vast edge of interaction and activity. If you've ever had the opportunity to paddle Phillippi Creek, you may have experienced the quiet transition in the trees or the distinct, airborne welcome by mullet as you travel from one ecosystem to another. It is home to animals, like alligators and manatees, who will rarely ever meet, as well as those, like snook, that play on both sides of the spectrum. Yet, nothing seems out of place. The ease with which Phillippi Creek transforms and supports these intersections is a tribute to nature and a reminder of the subtleness under which most change operates. The creek is a delight to paddle, whether you are looking to explore fish nurseries or gently glide under ancient, moss covered oaks. You never know what you might see!
For those new to the blue trail, there are two official kayak launches along the route. Phillippi Estate Park at the mouth of the creek and Pinecraft Park further inland both offer easy access.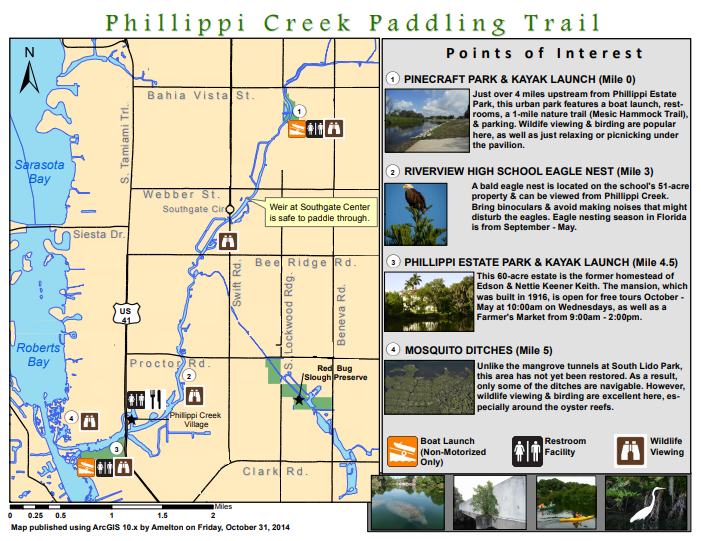 Heading Upstream from Phillippi Estate Park
Phillippi Estate Park Kayak Launch
It's Salty! No Wait, it's Fresh!
Depending on rain and tides, the salinity in the mouth of Phillippi Creek, near Phillippi Estate Park, can range from 0.5 – 37.5 ppt which is essentially the entire spectrum of fresh to salty. Typically, the creek runs fresher in the summer/rainy months and saltier in the winter/dry months. At any rate, plants, animals, and fish that reside in these areas must be able to adapt to large fluctuations in salinity.
Adult and baby manatees. Credit: Liz and Matt Sandburg
Mangroves, and Oaks, and Moss, Oh My! 
As you move north or inland from the mouth of the creek, the shoreline transitions from mangrove dominated to oak dominated. This provides a wide variety of life and offers stunning views with arching passageways.
Yellow-crowned night heron hiding in the mangroves
Spanish Moss, which grows on oaks, cypress, and other trees in our area, is actually not a moss at all, but a flowering plant in the same family as the bromeliads. It gets all of its nutrients through the air rather than through soil, and it has been used in many human products over the years including: building insulation, mulch, packing material, mattress stuffing, and seat padding in cars made during the early1900s.
What Other Cool Things Can I See in Phillippi Creek?