The holidays are coming quickly. Finding unique gifts can be a challenge. Here are some ideas that also support our local waterways, like Phillippi Creek!
Brown Paper Packages Tied Up With String
Wrapping paper and decorations are a huge source of waste after the winter holidays. Inevitably, some of that trash and recycling will make its way into our waterways. Try using compostable materials, like brown paper, or presenting gifts in reusable items – bags, cloth, dish towels, baskets, old book sock covers, etc. Some gifts can even stay bare! Fluffy will still love you regardless of whether his new bone is gift wrapped.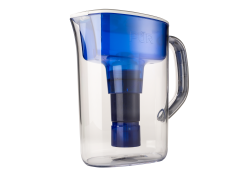 Water Filter
In September 2019, Phillippi Creek friends and neighbors removed 299 lbs of trash and 35 lbs of recyclables from the creek. A lot of plastic bottles and drink containers were pulled out. If your friends or family members are buying bottled water, consider having a conversation about using a water filter. All of the tap water in the Sarasota county and its cities is safe to drink. Filters can help improve taste if that's the issue.
E-Gift Cards 
Electronic gift cards that go right to an email inbox help reduce plastic and excess wrapping that usually gets discarded soon after use or opening. Services like Venmo and Cash also make it extremely easy to send someone a gift they can pick out themselves.
Your Time 
Gifting shouldn't only revolve around things. Plan a fun, safe hike or paddle and bring a bag to collect trash along the way. Join a volunteer outing with a group like the Sarasota Bay Estuary Program, or offer to help coordinate a get together for a friend or relative and talk about ways to reduce overall waste.
Native Florida Plant or Tree
There are so many beautiful Florida native plants that can go right into the yard with little to no maintenance. They help store and filter rainwater, reducing overall pollution levels that end up in the creek. It just so happens that Christmas Berry is a Florida native species, producing bright red berries in the late autumn/early winter. How convenient! Visit the Florida Native Plant Society for more information and a list of plants.
Compost
Compost stores and filters water, and it is a great soil amendment, instead of synthetic fertilizer. It builds soil and is great for gardens, landscape plants, trees, or just around the yard. For locals, consider gifting a Sunshine Community Compost membership to one of the neighborhood sites in the City of Sarasota or Manatee County.
For those ready to try it on their own, the UF/IFAS programs in Sarasota (contact Randy Penn rpenn@scgov.net) and Manatee (contact Lisa Hickey Lisa.Hickey@ufl.edu) counties offer discounts on compost bins.
Membership or Donation to an Environmental Organization
Sarasota has many wonderful organizations working on environmental and water quality issues. The Science and Environment Council website is a good place to start compiling a list of local organizations working in and around Sarasota County.