Everyone enjoys the cool shade of big trees on hot Florida days, but did you know trees significantly benefit Phillippi Creek by reducing stormwater runoff and flooding?
There are more than 100 miles of neighborhood canals that collect polluted stormwater from yards and streets and deliver it untreated into Phillippi Creek. Across the 56 square mile drainage area (watershed) of Phillippi Creek, a little bit from a lot of yards and roads adds up. The result is poor water quality, increased flooding and erosion that negatively affects the health of fish and wildlife and encourages algae blooms.
Trees are on the front lines of preventing the negative effects of stormwater runoff. Trees can reduce the amount of stormwater runoff and pollutants reaching the creek by intercepting rainfall before it hits the ground.  Tree canopies capture and store rainwater, allowing it to evaporate back into the atmosphere.  Research at New College of Florida shows that oaks, pines and even palms can capture a considerable volume of rainfall.  By slowing rainfall velocity, trees also help decrease erosion, reducing the amount of sediment reaching Phillippi Creek.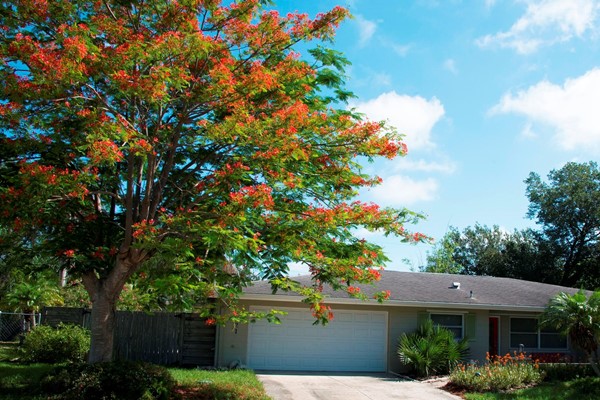 Tree canopies are especially important in urban areas. In natural forests, the dense canopy of trees captures at least 75% of all rainfall, but in most urban settings with widely scattered trees, less than 40% of rainfall is captured by trees.  By protecting existing trees and planting more, we can enjoy the shade and protect water quality in our waterways and bays.
Trees filter harmful airborne particulates and smog, cool our yards and homes and remove heat-trapping carbon dioxide from the atmosphere.  They also provide privacy, block unsightly views, muffle street noise and add curb appeal and property value.
Now that many of us have retired our aging septic systems and connected to central sanitary sewer service, we have the opportunity – really for the first time since the 1950s and 60s — to rethink areas of our front yards previously utilized by the septic leach field.  Imagine Southgate streets lined with majestic palms or dramatic splashes of color from Gold Trees, Jacarandas or Royal Poincianas!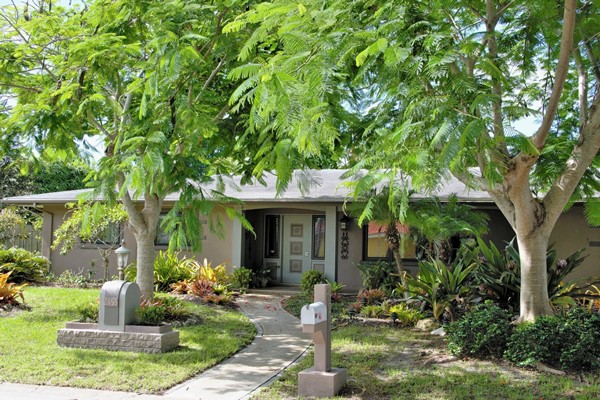 By protecting existing trees and planting more, we can enjoy the shade and protect Phillippi Creek.  For more information about planting trees suitable to our Southgate neighborhoods, contact a volunteer Master Gardner for free advice: 941-861-9807, plantclinic@scgov.net, or visit sarasota.ifas.ufl.edu.